Do Ružomberka si dali jesenné stretko heavy metalové kapely severného slovenska – od "skoro" západných hraníc EUFORY a od "skoro"východných hraníc – Etterna. 🙂
Obidve kapely vydali uspešné albumy v priebehu roka 2018 a tieto teraz odprezentujú v klube Nové Korzo.
Domácke – skoro obývačkové prostredie dotvára atmosféru koncertov v tomto podniku .
Večer vypukne o 20:00  tak nech ste tam !
Line up  : 
20:30 – 21:30  Etterna 
22:00 – 23:00 EUFORY
Etterna :  Melodická metalová skupina zo Slovenska založená  v auguste 2016.
Každý z nás má iný hudobný vkus a to je dôvod, prečo je náš hudobný štýl jedinečný.
Máme poslanie inšpirovať ostatných mladých ľudí.
.. sme Etterna
Web :  https://www.etterna.eu/
FB   :  https://www.facebook.com/etterna.eu/
CD :  Chaotic – 2018
EUFORY : Kapela založená v r. 2008 bubeníčkou Mimou. Žánrovo je kapela zameraná na melodický power metal s prvkami speedu, groovu a Artu . V r. 2015 vydáva svoje prve CD – Flying Island Eufory . Zúčastňuje sa niekoľkých súťaží pre nové kapely a zbiera skúsenosti na podiách klubových i festivalových . V r. 2018 poriada prvú medzinárodnú tour s kapelami v CR a PL po kluboch v uvedených štátoch.  v máji 2018 vydáva druhé CD – Higher and Higher  . V r. 2019 znovu poriada tour po kluboch v PL, CR a SR .  Vystupuje na festivaloch a pripravuje nový materiál pre fanúšikov .
Web :  https://eufory.sk/
FB    :  https://www.facebook.com/euforyband/
CD :
1. Chotar´s Intro  01:08
2. Flying Island Eufory  03:50
3. Final Chime   04:07
4. Cheers!   05:23
5. Leave me alone  05:08
6. From the other World  04:47
7. Metal is the Hero   04:05
8. Book of life   03:53
9. Be my Brother   04:19
10. Melodia čierneho klavíra  03:38
                           Bonus Track – (SK)
Ľuboš Senko – vocals
Miriama Hodonová – drums
Štefan Hodoň – guitars & vocals
Peter Drábik – guitars & vocals
Adrian Benca – bass
Produced by Eufory
Engineered, mixed and mastered by Rozenek  at GM Studio  January/March 2015
All  music & lyrics written by Eufory
Keyboards programmed by Eufory
All arrangements by Eufory
Cover artwork  by Andrej Nguyen
Release by Eufory
Higher and Higher    – 5/2018             objednať / place an order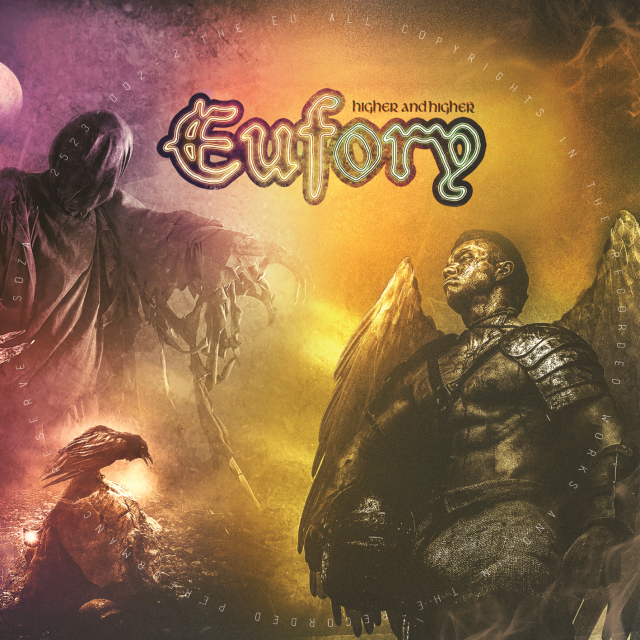 1. Dragon Hearts   05:57
2. Louder    04:46
3. Karmic Eyes   04:46
4. What a Shame!  05:43
5. On a Pyre   06:38
6. Dancing Star   04:23
7. Soldier from Beyond   04:26
8. I Want Out   03:57
9. One More Fucking Time  06:27
          Bonus Track – Cover Motorhead
Ľuboš Senko – vocals
Miriama Hodonová – drums
Štefan Hodoň – guitars & vocals
Peter Drábik – guitars & vocals
Adrian Benca – bass
Produced by Eufory
Guitars and drums and voice recorded by Pure Sound and GM Studio –  August/Oktober 2017
Engineered, mixed and mastered by Roland Grapow at GrapowStudios –  November/December 2017
All  music & lyrics written by Eufory except #9 – Cover Motorhead
Keyboards programmed by Eufory
All arrangements by Eufory
Cover artwork  by Andrej Nguyen
Release by Sliptrick Records