akcia na FB  :  Heavy Metal TOUR
3 Countries / 3 Bands / 1 Heavy Metal TOUR
3 Countries – PL/ CZ/ SK
3 Bands – Scream Maker / Power 5 / Eufory
1 Heavy Metal TOUR
Tour 3 kapiel , ktoré spoja 3 štáty a hrajú skvelý Heavy Metal !
Príď si aj ty užiť tento výnimočný večer s tonami skvelých riffov, výbušnými rytmickými sekciami a neskutočnými hlasovými virtuózmi – toto všetko na jednom pódiu a hneď máš prehľad o 3 štátoch a 3 kapelách – ktoré túto muziku natlačia do teba !!! .Tour 3 bands that combine 3 states and play great Heavy Metal!
Come you also enjoy this special evening, with tons of great riffs, explosive rhythm section and surreal vocal virtuosity – all this on one stage and now you have an overview of the 3 countries and 3 bands – that this music forced into you !!! .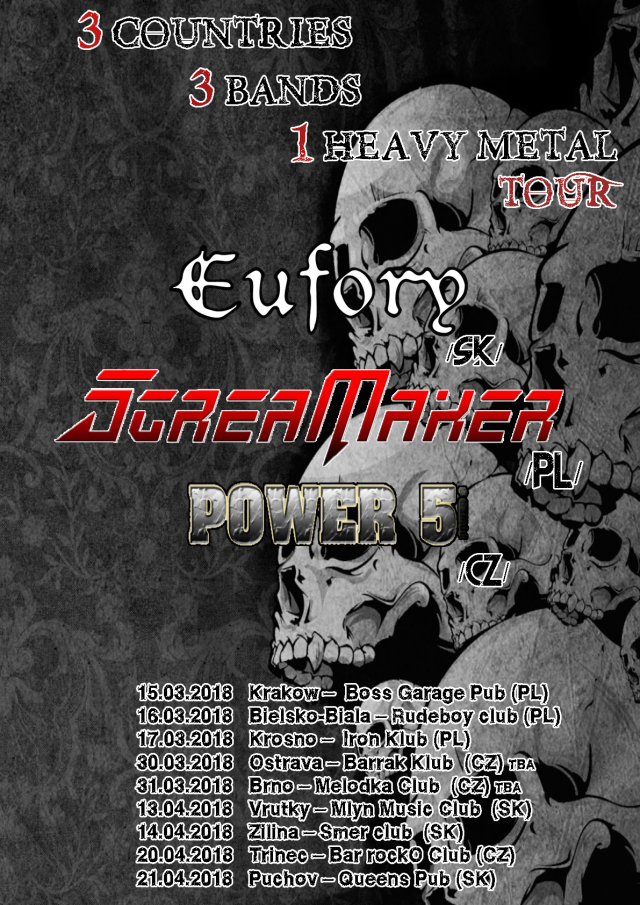 Line Up :
19:00       Club open (19:30)
20:00 – 20:45   EUFORY         start maybe at 20:30
21:15 – 22:00   SM
22:30 – 23:15   P5
Kde: Queens Pub Púchov
Kedy:21.04.2018
Začiatok 20:00
Vstup 4€